Fun in the Sun! And Learning, Too!
Summer is in full swing for Seeds 4 Success children. Our summer goal is to extend the school year for the children we serve by providing academic skill building and fun activities throughout their summer break. Much of the achievement gap we read so much about stems from summer brain drain and lack of enrichment that most middle-income children are exposed to. This will be our 3rd summer of offering a robust program. We aim to slow the summer learning gap and have children return to school ready for a great fall start!
Lynne Evans, Principal of Eastport Elementary School, described the impact of programs like S4S':
"Closing the achievement continues to be a challenge for schools, families and communities. Even if students gain a whole year's growth during the regular school year, a gap may still be present. Organizations, such as S4S offer students consistency and constancy in learning. The opportunity to receive year-round tutoring brings students hope, and can result in increased academic achievement, solidifying many basic skills, and allowing them to move ahead in their learning."
Right now, Eastport Girls Club is participating in a Hammond Harwood House art program called "Paint Like Peale" — that's Charles Willson Peale! The programs highlights different aspects of Charles Willson Peale's life including his discovery of a mastodon and creating one of the nation's first museums. The girls are creating art projects where they paint like Peale. The girls are also honing their comprehension and reading skills by reading books with their tutors at St John's College. An afternoon round of tennis with the Tennis Alliance group caps off the camp day.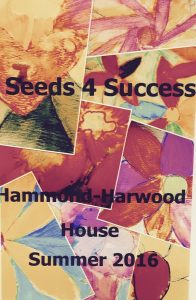 Hammond-Harwood House staff created a collage of S4S children's creations while they learned to Paint Like Peale!
In August our girls and I Am a Reader boys will do a sailing camp at Eastport Yacht Club.
First order of business at Sailing Camp: Man Overboard drills!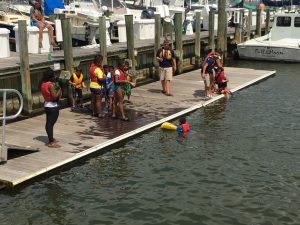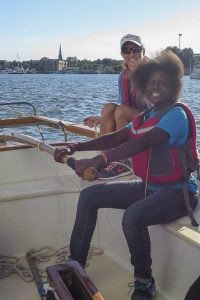 Being around the water is not just fun, but helps children stretch to master new experiences.
"At first I was scared, but then I wanted to take the tiller." … EGC girl after 2015 summer sailing experience.