A New Board President and a Growing Board
At our June board meeting, President Helena Hunter stepped down and Corey Galinsky was elected President of the board. Helena is a founding member of Eastport Girls Club and has served as President since our incorporation as Seeds 4 Success in 2011. We will miss her wisdom and grace in guiding the board in the face of the difficult job of turning grass-roots enthusiasm into sustainable long-term solutions to issues surrounding children growing up in poverty. Helena has reminded all involved that she is passing to the torch to a very capable successor! And she is not going away.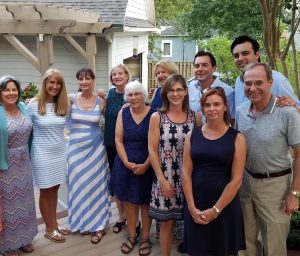 Corey Galinsky is a Vice President of Residential Mortgage at Severn Savings Bank and has served on the board for the past two years. Corey has brought to Seeds a wealth of management and financial skills, a wicked sense of humor and most important, strong support for our mission.
"This is a great honor for me. The passion of the staff, board, and volunteers and their dedication to such a worthwhile mission in our own community is an opportunity that is positively infectious. We are in a great phase of growth and are excited to help more children in the area understand their full potential in life."
Thank you, Helena and Congratulations, Corey!
Meanwhile, our board is also growing!
Joining the Board this summer are Tricia Irvin, Deborah Clark, Marc Lane Rodriguez and Nicole Donegan. John Palinski, Seeds 4 Success Executive Director said:
"We are so excited to have these new Board members join us. Each was selected for a strength they bring to the organization and an already robust and active Board. We look forward to their guidance as S4S grows and continues its success."
Tricia Irvin is currently the Chair of the Annapolis Education Commission. Deborah Clark is retired and previously served as Special Counsel, Associate Chief Counsel, Income Tax and Accounting for the Internal Revenue Service. Marc Lane Rodriguez serves as Special Assistant to Alderman Jared Littman, City of Annapolis Ward 5 as well as the Executive Director of the Democratic Party Committee Abroad. Nicole Donegan is a marketing and communications consultant with experience in both corporate and non-profit markets.