Seeds 4 Success' 12th Annual Cocktails for a Cause
October 13, 2022 @ 5:30 pm

-

7:30 pm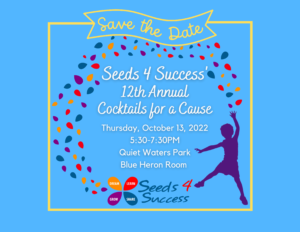 Please join us for our 12th Cocktails for a Cause to celebrate 14 years of serving youth, and working toward our vision: Every child in Annapolis has the opportunity for a to have a bright future.
Our Helping Hand Award Recipients this year will be the D'Camera Family – Dean, Christy, and Sophia. They have been with us since the beginning. Their wisdom, guidance and enthusiastic support continue to have everlasting impacts on Seeds 4 Success and its mission.
If you would like to sponsor Cocktails for a Cause, please email [email protected].